Remember Those Who Served.
Some people you can never thank enough.
Doctors forgo parties in college to study for the rigorous courses their MD requires, and even after they graduate, a career spent caring for the sick and injured often doesn't leave time for much of a social life.
Firefighters risk their lives on a regular basis to protect others.
Engineers put themselves through all the subjects that bored us to sleep in school to build and maintain the infrastructure that we take for granted.
But all those doctors, firefighters, and engineers wouldn't be able to do what they do or live where they live if it weren't for the all the soldiers that have served our country over the years to protect this great country and what it represents.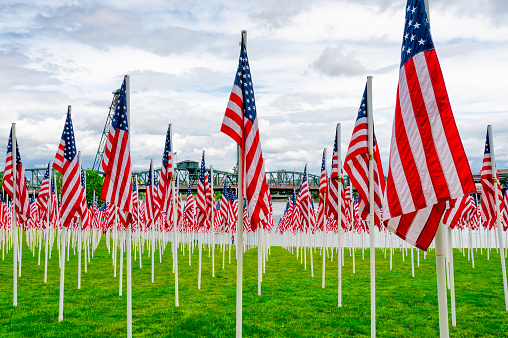 That's what Memorial Day is all about. You could be forgiven for thinking it's all about barbeques and fireworks and road trips to the beach, because that's pretty much all anyone else thinks about.
Don't feel too guilty, though. Memorial Day is indeed also about getting a day off work to spend with your family and enjoy what it is sure to be some of the year's best weather.
Just don't forget the incredible courage that countless soldiers displayed when they sacrificed everything for our country.
In addition to the usual fun summer activities, why not make a small gesture just to show your support? Raise your flag up high (after noon, that is: remember to keep your flag at half-mast before noon). If there's one nearby, maybe visit a veterans' cemetery or attend a memorial service. You could also stay home and tune in to the National Memorial Day Concert held at the U.S. Capitol and broadcasted on PBS and NPR, which compliments a star-studded lineup of performers with tributes to those we've lost.
Unfortunately, heavy traffic paired with heavy drinking make Memorial Day one of the most dangerous times of the year to drive. Don't drink and drive, and be extra cautious when you're driving sober to watch out for those on the road who are less responsible.
"All gave some, some gave all"
Remember those soldiers who served our great country this Memorial Day.
Pulse Business Solutions thanks you for your service.
Yes! I'm looking for the best IT services to support my business
Clients Feedback
After switching to Pulse, we were pleased to know that our IT service bills were consistent and fixed fee each month. This part was huge because finally we could plan and budget for our IT service expenses. We also appreciated the fact that Pulse would dispatch experienced technicians based on the issue at hand resulting in faster resolution of problems that arose. One of the most valuable parts of working with Pulse is that I know there will be a quick and appropriate resolution to any issue that we experience. This process gives me peace of mind because like most small businesses, we need quick and efficient responses to any and every system issue we may face. Pulse's consistency and dependability in service is unparalleled to providers we've had in the past.
Consistent and Dependable-Non-Profit Organization
Fort Myers, FL
read more»