How Can You Be Sure That You're Getting the Best IT Solutions Provider for Your Business?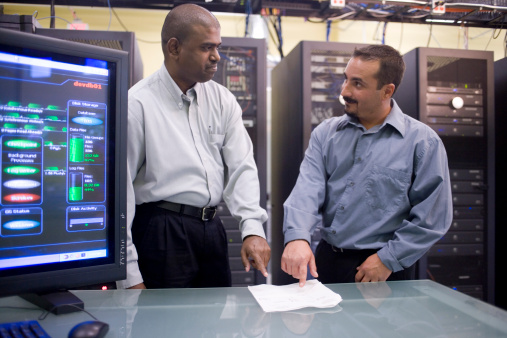 There are plenty of options available to businesses looking for an IT Solutions Provider. Numerous companies claim to offer the best customer service, the newest technology and the quickest response times, but how can you really make the best choice? Only the best IT Solutions Providers offer these specific features in their service, so keep them in mind when determining what's best for your business: 
Comprehensive Management.
Don't bother with multiple vendors when you can have all your IT needs managed by a single Florida IT support provider. From maintenance of your server hardware and software to support for all your business applications, you can have all your concerns covered from a single provider, ensuring a more streamlined IT environment for your business.
Digital threats are a regular occurrence for companies that deal with sensitive client and employee information. You need to be sure that your Florida IT support provider can keep your valuable data safe from hackers, viruses and other threats. The right IT support provider can ensure that automated backups of your system sees to your data's integrity, regardless of the kind of emergency your business experiences. All security measures — including antivirus software, firewalls and anti-spam for every user in your company — should be regularly updated to keep your information protected.
Advances in the IT field are occurring at a dizzying rate, and the wrong IT support provider won't be able to keep up with them. Your business deserves to benefit from the latest in mobile technology and virtual systems that allow you to access your files and projects remotely and on-the-go. Choose the right IT support provider Florida to ensure that you and your employees can enjoy the latest and most convenient business technology available.
New technology allows better IT Solutions Providers to actively monitor your IT systems 24/7/365. Don't settle for services that only act after you've experienced an issue, when the right Provider can ensure minimal downtime and maximum productivity for your business.
One of the most important considerations you need to take into account is the cost of service. Regardless of the quality, if a service comes with unexpected charges and a fluctuating monthly rate, it's not worth it. Only the best comes at a monthly flat rate that's easy to budget and plan for.
Get the right IT Solutions Provider in Florida for your business' needs! Contact Pulse Business Solutions today at (239) 676-6679 or info@pulsebizsolutions.com to learn more about what we can do for you.
Yes! I'm looking for the best IT services to support my business
Clients Feedback
After switching to Pulse, we were pleased to know that our IT service bills were consistent and fixed fee each month. This part was huge because finally we could plan and budget for our IT service expenses. We also appreciated the fact that Pulse would dispatch experienced technicians based on the issue at hand resulting in faster resolution of problems that arose. One of the most valuable parts of working with Pulse is that I know there will be a quick and appropriate resolution to any issue that we experience. This process gives me peace of mind because like most small businesses, we need quick and efficient responses to any and every system issue we may face. Pulse's consistency and dependability in service is unparalleled to providers we've had in the past.
Consistent and Dependable-Non-Profit Organization
Fort Myers, FL
read more»