Take advantage of Microsoft's mobile app 'Send', quick email communications on the go!  
Need to organize time on the go to be more efficient? Reduce the time it takes to check and respond to emails on your smartphone starting with a simple tap.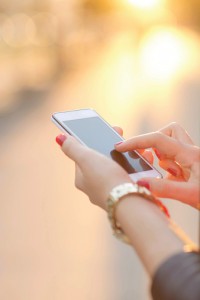 Microsoft's mobile email app 'Send' is here to bring an effective way for co-workers who are short on time to send brief messages to one another without the need of knowing a co-workers mobile number.  'Send' only requires the co-workers email address without the worry of subject lines and signatures.  Designed to work seamlessly with office 365 business and school email accounts, some of key features include:
"Quick Reply" option for speedy responses
Simple to Use interface like that of an instant messaging software
Synced conversations with Outlook
Aimed to make it simple to use with an interface much like text messaging or instant messaging apps, conversations in 'Send' end up being synced with Outlook which allows users to continue them from anywhere they want and allows for users not having the app to be able to do so as well.Giving one the freedom and convenience of being able to continuously keep in quick contact with their co-workers with quick on the go ease.
'Send' is available on the iPhone for free through the Microsoft Garage in the United States and Canada; versions for Android and Windows Phone are coming soon.  Although 'Send' only works with Office 365 and school email accounts, Microsoft plans to make it more available in the coming months.
Need assistance in setup and training to be familiar with using 'Send'? Contact us right away by phone or by email.  We'll help you with the assistance you need. 
Yes! I'm looking for the best IT services to support my business
Clients Feedback
After switching to Pulse, we were pleased to know that our IT service bills were consistent and fixed fee each month. This part was huge because finally we could plan and budget for our IT service expenses. We also appreciated the fact that Pulse would dispatch experienced technicians based on the issue at hand resulting in faster resolution of problems that arose. One of the most valuable parts of working with Pulse is that I know there will be a quick and appropriate resolution to any issue that we experience. This process gives me peace of mind because like most small businesses, we need quick and efficient responses to any and every system issue we may face. Pulse's consistency and dependability in service is unparalleled to providers we've had in the past.
Consistent and Dependable-Non-Profit Organization
Fort Myers, FL
read more»